ENTERTAINMENT
IPTV compatible, or browse the web or stream content from a personal device.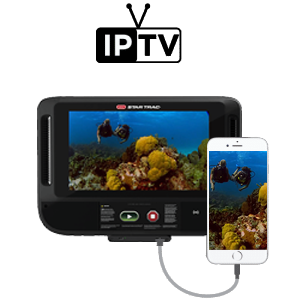 ASSET MANAGEMENT
Wirelessly monitor all your equipment in your facility.
FITNESS TRACKING / COMPETITION
Use data capture & leaderboards to track efforts in real time then save & share your results with the apps you use the most.
OUR CONSOLE. YOUR WAY.
The OpenHub™ family of cardio consoles offer solutions that meet the unique needs of every facility. The flexibility of the console allows for additional features to be added at any point, meaning you can get and pay for what you want, when you want it. No other manufacturer offers the affordable range of connectivity as StairMaster and Star Trac.
Optional 8 Series Private Viewing System
Add individual entertainment to each cardio piece
15.6″ HD screen
HDMI streaming capable (with HDMI cable, not included)
Integrated design matches the console for a clean, cohesive look
Optional Tablet Holder
Users are bringing their own entertainment with them to their workout – give them a place to put it!
Connect to Apple Watch or Samsung Galaxy Watch
OpenHub™ LCD Consoles and 15″/19″ Embedded Displays are able to connect directly with Apple Watch or Galaxy Watch for real-time data sharing between the equipment and watch using NFC technology to allow a simple tap to pair connection.